At Penola Catholic College our learning environment focuses on providing students the opportunity to develop their knowledge, understanding and skills, in order for them to become passionate and resilient lifelong learners who are creative, innovative and productive global citizens.
We also believe that quality relationships between teachers enable quality learning to be maximised.
Penola Catholic College embraces the belief that learning is a life skill which needs to be nurtured in each student. We strive to provide learning experiences that challenge students to explore the world they live in and ask questions which prompt curiosity and creativity.
In our classrooms, students are made aware of the purpose of their lessons as their teachers make explicit the learning intentions for each lesson. The teachers also develop Success Criteria with their students which allows students to know what they need to do to successfully demonstrate their understanding. This is at the heart of Penola Catholic College's contemporary model of Learning.
---
How Learning Works
Our Learning Framework is grounded on the 6 Pillars of learning:
Three of these are our Charism Pillars:
Integrity
Justice, and
Peace.
The other 3 are our learning focus:
Engagement
Empowerment and
Enterprise Skills.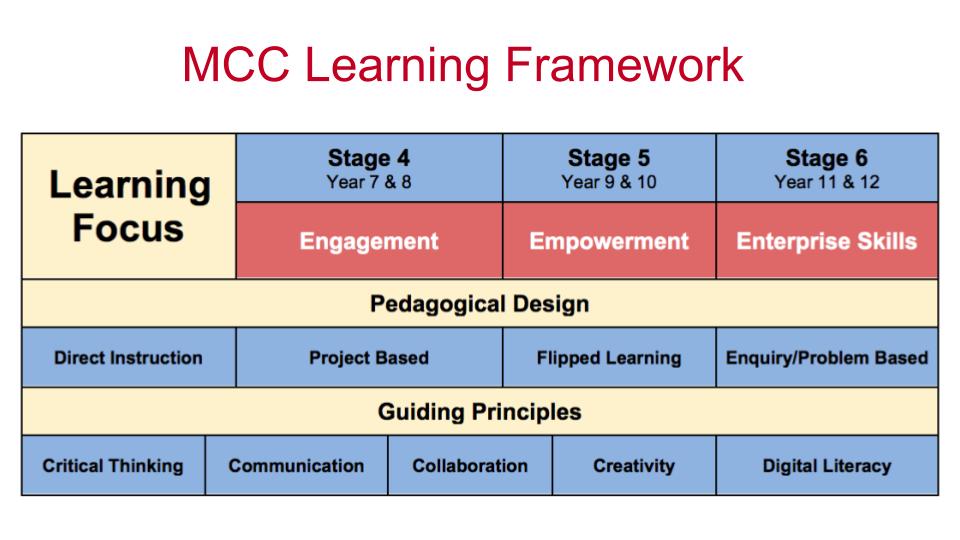 ---
The focus in each stage of learning
Years 7 and 8
The focus in Stage 4 for our Year 7 and 8 students is on Engagement in learning. Students are provided with a multitude of challenging learning experiences whilst catering for individual learning needs. The focus is on encouraging students to recognise the importance of learning in their lives and to actively engage in the learning experiences.
Years 9 and 10
The focus in Stage 5 for our Year 9 and 10 students is to build on the learning focus of Engagement developed through Stage 4 in order for the students to feel Empowered to own their learning. Students are encouraged to reflect on their progress to determine their own learning needs through self-regulation and then set goals to further improve their learning.
Years 11 and 12
The focus in Stage 6 for our Year 11 and 12 students incorporates the learning focuses of Engagement and Empowerment in order for students to develop their Enterprise skills so when they leave Penola Catholic College they are ready to enter into the workplace or further study equipped with the confidence, determination and enthusiasm to take on any challenge
The stage learning focus dovetails into our Learning Framework which is at the core of our teaching, learning and assessing of student work.
Our learning design across Years 7 to 12 is based on leading educational research which identifies key strategies for student learning success. Direct instruction, Project Based Learning (PBL), flipped learning and enquiry/problem based learning are strategies which have been proven to have significant positive impact upon student learning achievement.
The guiding principles which drive the learning framework are 21st century skills of Critical Thinking, Communication, Collaboration, Creativity and Digital Literacy. The skills form an integral component of the educational experiences offered to our students so that they have the skills to control their own learning.
---
A Pathways in Technology (P-TECH) college
Penola Catholic College is privileged to be designated by the Federal Government, to be a Pathways in Technology (P-TECH) college.
Penola is the only Catholic school in NSW to be designated as a P-TECH College. P-TECH enables students to be involved in developing enterprise skills in conjunction with our Industry Partners, Telstra and PwC. Students have access to and acquire very specific skills in order to be successful in diverse career pathways. In conjunction with P-Tech, we offer the iSTEM course. iSTEM and P-Tech involve real world problem solving and the development of Critical Thinking, Collaboration, Communication, Adaptability and Creativity.
At Penola Catholic College we aim for each student to be an active and responsible participant in their learning journey. It is important that every student is able to achieve personal success, therefore all learning caters for the diverse range of ability levels.
Everything we do at Penola is an opportunity to grow as a young adult who is able to form quality relationships and work in partnership with teachers and peers.